Group Description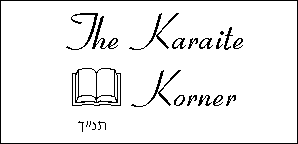 The Karaite Korner Newsletter includes:


New Moon Reports

Abib (Barley) Reports

Torah Thoughts

Site Updates
More information on Karaite Judaism at:

http://www.karaite-korner.org/


To subscribe to the newsletter please send a blank e-mail to:

karaite_korner_news-subscribe@yahoogroups.com


Archive:

http://www.groups.yahoo.com/group/karaite_korner_news/messages/





Group Website
Group Information
9967

Mar 27, 1999

English
Group Settings
This is a public group.
Attachments are not permitted.
Members cannot hide email address.
Listed in Yahoo Groups directory.
Membership does not require approval.
Messages require approval.
Only moderators can post messages.
Group Email Addresses
Message History