No activity in last 7 days
Group Description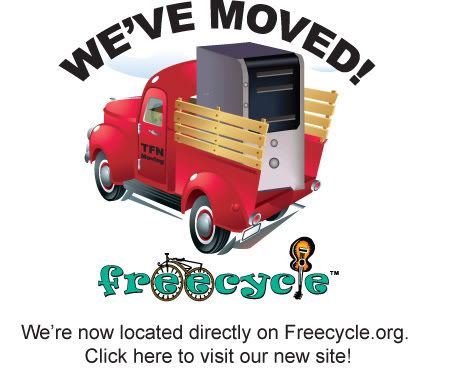 As of 8/27/09, the Chicago Freecycle group has moved to the new website at http://groups.freecycle.org/chicagofreecycle . You must click the Sign Up link and sign up on that site. Once you are signed up, sign back in and click the My Groups link, search for Chicago and then click Join This Group to join there..

VERY
IMPORTANT, PLEASE READ THE FOLLOWING:



Please read the Etiquette file sent to you upon joining before you make any posts.


The Volunteer Moderators do monitor the postings. Anyone participating
in SPAM will be immediately banned from the group.


All members must be local to the Chicago area to join. If you are not, please go to http://www.Freecycle.org to find a group nearer to you.





QUESTIONS? Contact the moderators at chicagofreecycle@mods.freecycle.org






---
© 2003 The Freecycle Network (http://www.Freecycle.org). All rights reserved.
Freecycle and the Freecycle logo are trademarks of The Freecycle Network in the United States and/or other countries.
---
Group Website
Group Information
17628

Sep 17, 2003

English
Group Settings
This is a restricted group.
Attachments are not permitted.
Members cannot hide email address.
Listed in Yahoo Groups directory.
Membership requires approval.
Messages require approval.
Only moderators can post messages.
Group Email Addresses
Message History