Group Description
This group is for people of any ethnic background whose ancestors belong to any of the Indigenous Native American peoples as confirmed through genetic testing and/or genealogical research belonging to haplogroup A. Any descendants of Indigenous Native people who are not affiliated with any tribal nation also belonging to any haplotype associated with Indigenous Native Americans and/or confirmed genealogy. Any members belonging to a tribal nation who wish to offer knowlege, support, and cultural input to our group. I also offer private DNA Genealogical consulting/interpretation of results and testing to help determine Native Ancestry as well as Ethnic Admixture testing for individuals who are seeking to help trace their Native American Ancestry through DNA testing and/or Genealogical reasearch. Please E-mail nativesistergroup@yahoo.com. (DNA testing cannot determine your tribal affiliation) Genealogical research along with family Oral history is helpful when trying to determine the tribe one's ancestors may been affiliated with.
We will discuss Native American culture, heritage, research, and any mixed ancestry we may have. We will pay respect to our ancestors and common lineage going all the way back to our Aboriginal ancestors who populated Canada, North, Central, South America and the Caribean. We will preserve, learn about, teach and revive our culture to the best of our ability.
We will respect each other in our discussion. Members shall not offend, make threats, or use foul language of any nature.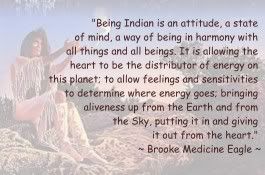 In last 7 days
No Activity
Category
Cultures & Community/Countries and Cultures/American Cultures/Native American
Group Settings
This is a restricted group.
Attachments are permitted.
Members cannot hide email address.
Listed in Yahoo Groups directory.
Membership requires approval.
Messages from new members require approval.
All members can post messages.