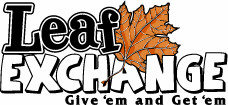 Wondering what to do with all those fallen leaves, or do you need leaves for composting or mulching? The City of Fort Collins offers a web-based service through Yahoo! Groups making it easy to exchange your leaves by communicating directly with people who want leaves or have leaves to give away.
Leaves should be free of rocks, trash, tree limbs, grass clippings and garden debris.
To participate in the online group, sign-up by clicking "Join The Group." (Note: due to increased spam activity, you must be a member to participate in this program. Messages posted to this list are moderated, Mon-Fri, 8am-5pm MST.) Next, click on "POST" and include brief information on the quantity of leaves that you have to give or need, and an approximate location. Use one of the following tags in the subject line, and the quantity of leaves.
AVAILABLE (You have leaves available)
TAKEN (The leaves you had available have been taken)
WANTED (You want leaves)
$WANTED (A fee is charged for accepting leaves)
For example, if your business charges for taking leaves, your subject line might read:
$WANTED: UNLIMITED LEAVES, I-25/Prospect
If you need leaves for composting, your subject line might read:
WANTED: 10 bags, Prospect Rd/Overland Tr
If someone has agreed to take your leaves, please post another message starting with "TAKEN." You can delete your own messages by clicking on the subject line and choosing the delete button.
Questions? Contact the "list owner" at the address below.
Click here for more information about recycling in Fort Collins.